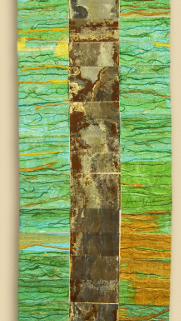 Exhibit featuring the mabati (galvanized sheet metal) and the fabric artwork of Naomi Wanjiku Gakunga, and the prints and batiks of Tunde Odunlade, opens with a reception on January 26, 2018 and runs through April 22, 2018. This exhibit is guest curated by Phillip Collins.
About the Artists
Naomi Wanjiku Gakunga's mabati art uses galvanized sheet metal to contemporize traditional activities she observed while growing up in Central Kenya. Naomi manipulates metal to explore both material transformation and the contradiction between its qualities. She says of her art, "I borrow from numerous techniques and processes, which combine in a single aesthetic purpose. I want viewers of my art to experience an intricate and intriguing setting that can be perceived and contemplated endlessly."
Tunde Odunlade is a print and textile artist. Tunde's work uses both contemporary and traditional techniques to create art with unusual depth and texture. He is a quadruple-threat artist, with a professional portfolio as an artist, musician, actor and storyteller. Tunde Odunlade's life is well described by his motto: "He who does not attempt the absurd can never achieve the impossible."
Tunde will play African drums, and Naomi will dance, during the opening. The opening will start at 6:00 pm on January 26th.