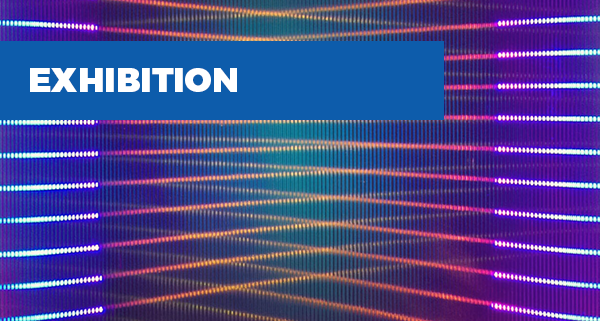 Biennial: Origins in Geometry is a juried competition to recognize excellence in emerging visual artists deriving inspiration from geometric abstraction.  Artists who are selected as finalists will be featured in an exhibit at the Museum July 28 through October 22, included in a catalog with other finalists, receive exposure on the museum website, and have the opportunity to win cash awards for their exemplary work.
This biennial will be curated by the juror, Magdalena Mujica de Arria. Magdalena founded GraphicArt Gallery in Caracas, Venezuela, in 1976 and serves as its Director.  In 1992 she founded FIA (Feria Iberoamericana de Arte) and has been involved with this Caracas Art Fair since then.  In addition, GraphicArt participates in art fairs such as ArtParis, ArMiami, ArtLima (Peru), among others.  Magdalena is on the selection committee for ArtLima.
A total of $3000 from the Helen Manning Bequest will be awarded as follows: Best of Show – $1,500; Second Place – $1000; and Third Place – $500.
FEATURED ARTISTS
Paul Abbot – Dallas, Texas
Gisseline Amiuny – Caracas, Venezuela
Jose Roberto Arraiz – Caracas, Venezuela
Lane Banks – Dallas, Texas
Roger Bensasson – Bagnolet, France
Tim Bolt – Lima, Peru
Roberto Borberg – Caracas, Venezuela
Beti Bricelj – Slovenia
Saverio Cecere – Maracay, Venezuela
Cecy Colichon – Portland, OR
Cristina Colichon  – Lima, Peru
Orlando Costa – Caracas, Venezuela
Oscar Duran – Dallas, Texas
Orna Feinstein – Bellaier, Texas
Kentra Gilbert – Houston, Texas
Mokha Laget – Santa Fe, NM
Carmen Menza – Highland Village, Texas
Pedro Morales – Houston, Texas
Tilena Morales – Caracas, Venezuela
Carmen Novaco – Napoli, Italia
Nikola Olic – Dallas, Texas
Ricardo Paniagua – Dallas, Texas
Paul Pena – Rowlett, Texas
Miguel Prypcham – Caracas, Venezuela
Jorge Puron – San Antonio, Texas
Jeff Robinson – Dallas, Texas
India Serena – Paris, France
Zoe Shulman – Austin, Texas
Stan Smith – Lancaster, Texas
Daniel Sullivan – Baltimore, Maryland
Ani Villanueva – Caracas, Venezuela
John Wilson – Manteo, NC
Alberto Jose Sanchez – Caracas, Venezuela